This is a Quick start guide using Secure Document Exchange. This will delve into the basics of using Secure Document Exchange. For more indepth Secure Document Exchange please visit here.

1 - Go to Secure Document Exchange website here. Sign in with your SDX credentials.




2 - "To", "Subject" and "Message" are same as typing any email from any webmail or program.

On the right hand side you will see:
Require authentication to access - this will mean the recipient will need to sign up with the email address this was sent to.

Access Restriction - When you change this you can change who can access it. Options are simply the recipient, recipient and local users and lastly anyone who has the link.

Message Expire - You can change this to expire after a certain date. E.g. Time critical data.

Message Expire After - You can set it to expire after so many download.

Send a copy to myself - Includes you as the recipient.

Private Message - The message content recipient will not be able to see until they sign in to SDX.

Limitation - Max Size of your SDX storage space.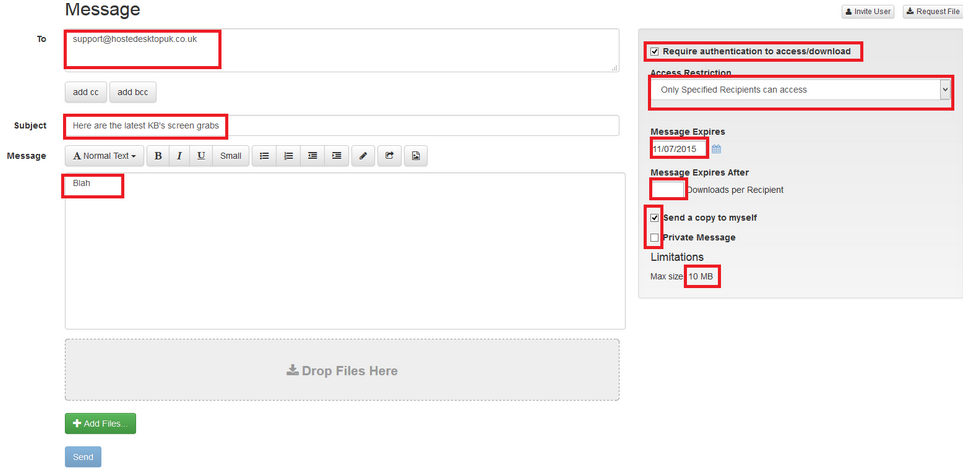 3 - You can drag and drop files you want to share. Otherwise you can press Add Files… Then browse to the location and file.




4 - When adding files this will then upload. Large files will take longer small files be quick. If you need to cancel press "Cancel".



5 - Once Processed - Send.




6 - Once your message has been sent you will get a brief summary.