Cannot access Hosted Desktop

If you get the following error…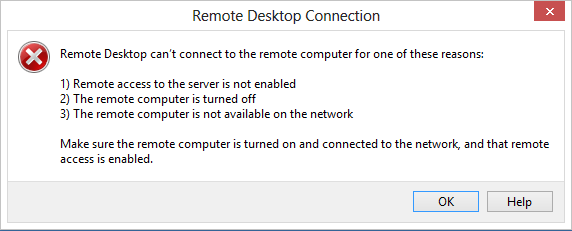 …there are some things to check before hand before contacting us.

Your Internet
Are you able to browse the internet?
You need a stable internet connection to connect to Hosted Desktop. If you are on a Wireless connection, try connecting with a cable.

Scheduled Maintainance
Have you checked to see the support website for Service Updates: http://support.hosteddesktopuk.co.uk which will have details on Scheduled Maintainance and updates on the Hosted Desktop Services.
Check the Computer Name you are typing in
The computer name will be in there form
.hosteddesktopuk.co.uk

Please ensure there are 2 x UKs in the address hosteddesktopUK.co.UK

Also, if we have provided a number, this will have to be put on the end (ie .hosteddesktopuk.co.uk:3391
Your Local Network
Do you have other users that connect to the same Hosted Desktop. Are they able to connect? Are users from another office connect to your Hosted Desktop? Or workers from Home? If other users can connect, then this issue can be with your computer and the local network.
Password Lock Out
If a user at your site types in a password or username wrong 5 times within 10 minutes, your site will be blocked from connecting to Hosted Desktop for 30 minutes.
(Or if 5 users type in the wrong password within 10 minutes)
Alternative Test
The other alternative is use https://webaccess.hdcloud.co.uk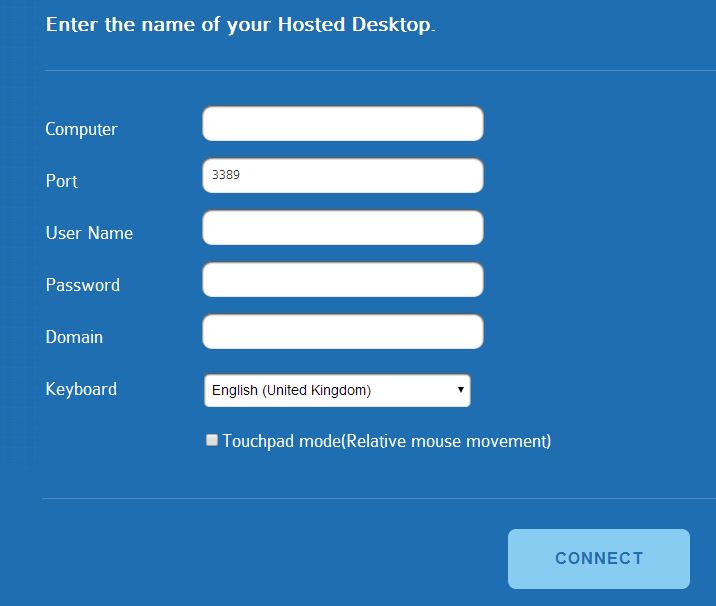 This will use the web browser to display your hosted desktop
Computer: .hosteddesktopuk.co.uk

Port: 3389 is default but use 3390,3391 if you have been supplied with a number at the address of you couputer name.

User: [username]

Password: [password]

Domain: Unless instructed, this can be left blank.
If all else fails
If after all this please call us on 020 3239 6181 and we will assist you.

Back to the top