Why can't I access Hosted Desktop?
Connection issues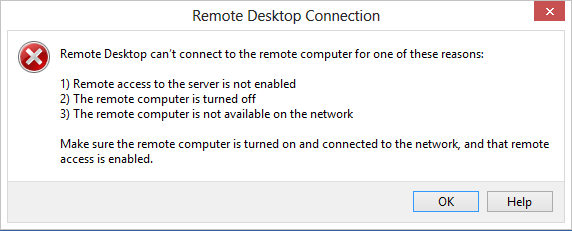 If you get this error, there are some things to check before hand before contacting us:


Your Internet
Are you able to browse the internet?
You need a stable internet connection to connect to Hosted Desktop. If you are on a Wireless connection, try connecting with a cable.


Scheduled Maintenance
Have you checked to see the support website for Service Updates: http://support.hosteddesktopuk.co.uk which will have details on Scheduled Maintenance and updates on the Hosted Desktop Services.
Check the Computer Name you are typing in
The computer name will be in the form .hosteddesktopuk.co.uk
Please ensure there are 2 x UKs in the address hosteddesktopUK.co.UK Also, if we have provided a number, this will have to be put on the end (ie .hosteddesktopuk.co.uk:3391


Your Local Network
Do you have other users that connect to the same Hosted Desktop? Are they able to connect? Are users from another office connected to your Hosted Desktop? Or workers from Home?
If other users can connect, then this issue could be with your computer and/or the local network.


Password Lock Out
If a user at your site types in a password or username wrong 5 times within 10 minutes, your site will be blocked from connecting to Hosted Desktop for 30 minutes.
(Or if 5 users type in the wrong password within 10 minutes)


Alternative Test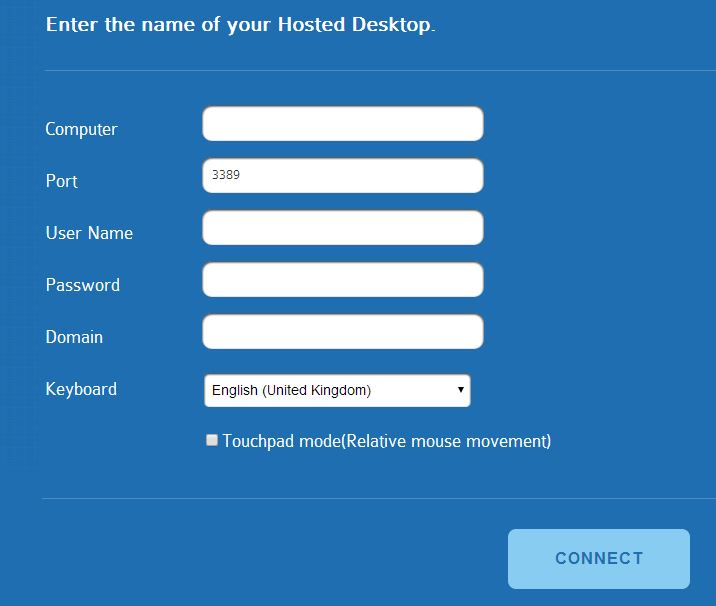 The alternative is use https://webaccess.hdcloud.co.uk
This will use the web browser to display your hosted desktop
Computer: .hosteddesktopuk.co.uk
Port: 3389 is default but use 3390,3391 if you have been supplied with a number at the address of you couputer name.
User:
Password:
Domain: Unless instructed, this can be left blank.


If all else fails
If after all this please call us on 020 3239 6181 and we will assist you.

What are the requirements to access Hosted Desktop?
The requirement to connect to a Hosted desktop are minimal.
The requirements are:
An Internet connection

A device that support RDP connections

All Windows Based computers have this built in as standard

MAC /Iphone / Ipad Requires a 3rd party app such as Windows RDP, CORD or 2X (Parallels Client)

Andriod tablet - Requires a 3rd party app such as Windows RDP or 2X (Parallels Client)
Please note Google chrome books do not support remote desktop apps and instead must use HDUK Web access https://webaccess.hdcloud.co.uk/rdp.html

What is my email password?
Your email password is normally the same as your hosted desktop password but not always.
If you need your password reset we can do this for you however we will need the request in an email from a Manager or Director at your company. We will then reset the password and email your new password back to your Manager or Director.
Please note we can not do password resets over the phone due to security reasons, all requests must be emailed to Support@hosteddesktopuk.co.uk

How do I get an application updated?
If you require a piece of software updating on your Hosted Desktop please email your request to support@hosteddesktopuk.co.uk and a member of the support team will update the software for you.
Please include in your email any required licence or activation details that maybe required as well as details where the update can be obtained from.
Should you require to update install out of office hours please do let us know and we can arrange this.
Please note all update requests need to be in writing, we can not process update requests over the phone.

How do I give access to a 3rd party company to my Hosted Desktop?
Should a 3rd party require administrator rights on the Hosted Desktop we can provide this with your consent.
Please send a request to Support@hosteddesktopuk.co.uk informing us who requires access and on what date.
Once we have received your request the 3rd party will then need to call us on 0203 2396181, We will then provide access to the server.

Why can't I print from Hosted Desktop?
There are a few simple things you can try before contacting Hosted Desktop Support.
Log out of Hosted Desktop via the Start button > log out, once done log back into Hosted and try printing

Are you able to print to the printer out side of Hosted desktop? If you're not there may be a problem with the printer itself in which case your local IT support may need to look into this.


If you are still having problems after the above tests please contact us on 0203 239 6181 or email us at support@hosteddesktopuk.co.uk and a member of the support team will be happy to assist.

How can I restore a file?
If you have accidentally deleted a file and need a copy restored we can arrange to recover this from back up for you.
Please email your restore request to Support@hosteddesktopuk.co.uk
Please include the file name and file path (E:\data\example\example.txt)
The file restore will then be done that evening and you will be informed once done.
Our standard backup retention period is the last 14 days
If you pay for our premium snap shot service the back ups are retained for 1 year.
(https://www.hosteddesktopuk.co.uk/hosted-benefits/backup-replication/)

Why haven't I received an email I am expecting?

How can I set up a Direct Debit?
If you would like to set up a direct debit for your hosted services,
Please send an email to mailto:Accounts@hosteddesktopuk.co.uk
We will then send you a link to our Direct debit system "Go card-less"